Fothergilla 'Blue Shadow'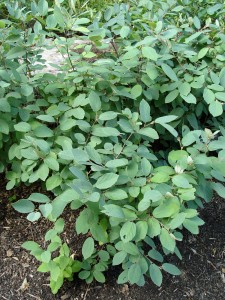 Common name: Fothergilla 'Blue Shadow'
* Botanical name: Fothergilla major 'Blue Shadow'
* What it is: A native flowering shrub that gets white bottle-brush flowers in early spring. Summer foliage is blue-green, then leaves turn a brilliant blend of red, orange and yellow in mid-autumn.
* Size: 5-6 feet tall, 4-5 feet wide.
* Where to use: Fairly shade-tolerant so 'Blue Shadow' is useful along north or east house foundations, in shade gardens, under trees or in any dappled-shade setting. Also competes well with tree roots. Part shade ideal but can do full sun.
* Care: Scatter acidifying organic granular fertilizer such as Holly-tone around base in March. Keep damp the first season, then water only if drought hits. No need to prune in early years, then thin out or cut back as needed right after plants finishes blooming in April. If runners creep out where you don't want them, sever and dig up anytime. Rooted runners can be transplanted.
* Great partner: Low blue-bloomer such as creeping veronica, brunnera or leadwort (plumbago).