Dwarf cryptomeria 'Black Dragon'
* Common name: Japanese cedar 'Black Dragon'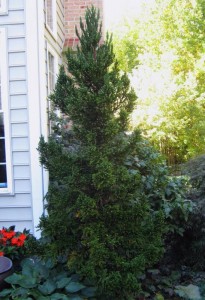 * Botanical name: Cryptomeria japonica 'Black Dragon'
* What it is: A slow-growing, compact, loosely pyramidal evergreen with soft, dark-green needles.
* Size: 10-12 feet tall, 5-6 feet wide in about 20 years.
* Where to use: Excellent specimen evergreen at a house corner or flanking doors or arbors. Also a good back-of-border plant in a flower garden or used for screening purposes lined up 4 feet apart. Full sun to part shade.
* Care: Improve soil with compost before planting and keep soil consistently damp (never soggy) for first full year. An annual spring scattering of an acidifying organic fertilizer such as Holly-tone is helpful but not mandatory. Pruning not needed if you give it enough space. If needed, trim lightly at end of winter.
* Great partner: Black-eyed susans, red daylilies or golden mums are good perennial partners. Plant golden daffodils for spring color. 
— George Weigel