Dusty miller 'New Look'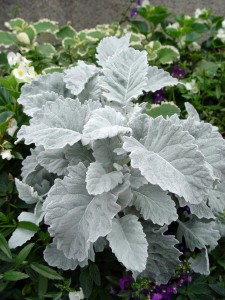 * Common name: Dusty miller 'New Look'
* Botanical name: Senecio bicolor cineraria 'New Look'
* What it is: An annual flower grown for its silvery-gray foliage. This particular dusty miller has more solid leaves instead of lacy ones. Leaves are also somewhat fuzzy, reminiscent of the perennial lamb's ears.
* Size: About 12 inches tall and wide.
* Where to use: In sunny gardens out front or anywhere you want a mass of summer-long color where it's hot and sunny. Also excellent in sunny pots and edging driveways.
* Care: Water twice a week for the first six weeks, then weekly (or less) when it's dry. These are among the most drought-tough annuals. Work a timed-release fertilizer such as Osmocote into the soil at planting time. In-season fertilizer usually not needed. Dusty millers are cold-tolerant and survive well beyond frost — and sometimes all winter, so don't yank in fall. Cut back to a stub in spring and see if new growth emerges. Plant new ones late April through May.
* Great partner: Anything purple or blue. Heliotrope and blue salvia are good annual partners. Lavender is a good perennial match. Roses, caryopteris and butterfly bushes are excellent shrub partners.