Best New Gardening Books of 2011
November 15th, 2011
Whether you're buying for yourself or for that obsessed gardener on your gift list, books make a worthy purchase this time of year.
We've got nearly 4 months of non-dirty-hands time to figure out ways to avoid repeating those landscape messes we ran into this year.
My Patriot-News garden column this Thursday will unveil my favorite 5 new gardening titles of 2011. (It should also show up online at http://connect.pennlive.com/user/gweigel/index.html)
Here's a slimmed-down, sneak-peek look at them PLUS my next five favorites to give you a total of 10 to ponder. Here you go: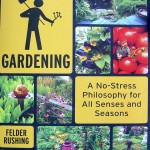 1.) "Slow Gardening" by Felder Rushing (Chelsea Green, $29.95 paperback). A reality-check look at how we're gardening, along with ways to savor our soiled experience instead of letting it add to our pressure-cooker lives.
   2.) "Dirr's Encyclopedia of Trees and Shrubs" by Michael A. Dirr (Timber Press, $79.95 hardcover). For plant geeks, this 8-pound tome gives renowned Prof. Michael Dirr's rundown on just about every woody plant you'd ever want to grow (and lots you wouldn't.) It's got color photos, too.
   3.) "Garden Rules" by Jayme Jenkins and Billie Brownell (Cool Springs Press, $9.95 paperback). A pithy, pocket-sized paperback that's an easy-to-read collection of tips, foibles and observations from a pair of gardeners who obviously get down and dirty.
   4.) "Tomorrow's Garden" by Stephen Orr (Rodale, $24.99 hardcover). Martha Stewart's editorial director of gardens says big lawns, "just-in-case" spraying and water-hog plants are out, and things like saving rain water, replacing lawns with vegetables and using more local materials and plants are in.
   5.) "Founding Gardeners" by Andrea Wulf (Alfred A. Knopf, $30 paperback). You'll be surprised to learn how many of our founding fathers were plant geeks. Franklin routinely sent home seeds from London to his wife. Jefferson was an obsessed seed-saver. Washington ordered the troops to plant gardens because it was "comforting." for them.
6.) "Designing with Conifers" by Richard Bitner (Timber Press, $34.95 hardcover). From a Hershey Med anesthesiologist who's a conifer expert in his other life, this book is about how to make better use of little-known and under-used cone-bearing plants than the boring ways we use them (i.e. balled-off yews and boring lines of soldier-like arborvitae).
   7.) "Fifty Plants That Changed the Course of History (Firefly, $29.95 hardcover). A fascinating look at plants that played key roles in humanity, such as how black pepper led to a need for banking, how sugar fueled the slave trade and how cotton split our nation in two.
8.) "Grow Your Food for Free (Well Almost)" by Dave Hamilton (Chelsea Green, $24.95 paperback). A good starter book for newbie vegetable gardeners. It's fun, lively and filled with hand-labeled sketches, charts and boxes.
9.) "Eat Your Roses" by Denise Schreiber (St. Lynn's Press, $16.95 paperback). Bugs aren't the only ones who know that flowers can be tasty. Pittsburgh's flower-eating maven shares tips and recipes for roses, pansies, nasturtiums, calendula and 48 more.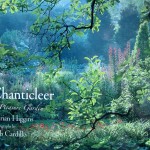 10.) "Chanticleer: A Pleasure Garden" by Adrian Higgins with Photographs by Rob Cardillo (University of Pennsylvania Press, $29.95 harcover). Chanticleer is less than 2 hours away and is one of my favorite public gardens. This book and its photos nicely capture the beauty and essence of this 48-acre plant-geek haven.
For a look at my 10 favorite gardening books of all time (at least for this week), click here https://georgeweigel.net/georges-favorite-plants-etc/my-10-favorite-gardening-books.